Tsubaki
An Unofficial BSD Project:
Soukoku Flower Language Zine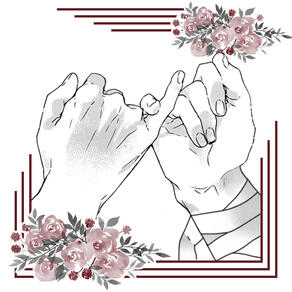 ✲゚。✧☆✲゚。✲゚。✧☆✲゚。✲゚。✧☆✲゚。✲゚。✧☆✲゚。✲゚。✧☆✲゚。✲゚。✧☆✲゚。✲゚。✧☆✲゚。
FAQ
What is this zine about?
This is a flower language-based zine focused on the Soukoku pairing.What type of zine is this?
The zine will be digital-only, with possible physical merchandise, and for-profit. If we choose to do physical merchandise, all proceeds will go to its production and shipping first. Any remaining profit will be distributed evenly amongst the team.What kind of contributors will you be accepting?
We will be accepting 20-25 artists, 6-10 writers, and 4-6 merch artists. Please note that you will only be accepted for one position if you apply.Will there be NSFW content?
No NSFW content will be accepted as portfolio pieces, samples, or zine content.Can traditional artists apply?
Yes! We welcome traditional artists; however, you must be able to have a high-quality scan of your finished art piece if accepted.How will communication work with the team?
All contributors will be required to join a Discord server, in order to receive updates and announcements from the mods.Can minors apply?
Yes, minors will be able to apply for a contributor spot! Please note that any accepted minor must have access to a parent or guardian's PayPal in order to receive monetary compensation.Who are the mods of this zine?
The mods are Kiro, Kim, and Gab. Please check our mod page for more details on us!
SCHEDULE (2021-2022)
| Time | Event |
| --- | --- |
| Jan. 26 - Feb. 14 | Interest Check |
| Feb. 22 - Mar. 26 | Contributor Apps. |
| Apr. 2-4 | Result Emails Sent |
| Apr. 23 - Apr. 24 | Concept Check |
| May 28 - May 30 | First Check-In |
| June 25 - June 27 | Second Check-In |
| July 23 - July 25 | Third Check-In |
| Aug. 20 - 22 | Finals Due |
| Jan. - Feb. 2022 | Preorders |
| Feb. - Apr. | Production |
| May - June | Shipping |
| Aug. 20 - Sept. 10 | Leftovers |
| October 2, 2022 | Project Concluded |
APPLICATION GUIDELINES
General Guidelines
❀ All samples must be SFW.
❀ All samples and portfolio pieces must be accessible to the mods or your application may be void.
❀ You must submit three of your best samples, in the style you'd like to create with in the zine.
❀ A BSD/Soukoku sample or floral themed sample is NOT required, but greatly recommended, as we are interested in seeing how you portray the characters and draw flowers.Artists & Merch Artists
❀ We will be looking at your composition, anatomy, and coloring.
❀ For page artist applicants, one of your samples MUST include a background and another sample must be fully colored and rendered.
❀ Please do not submit sketches.
❀ For merch artists applicants, if you have designed any physical (stickers, prints, charms, etc.) or digital (icons, headers, wallpapers) merchandise, we would be greatly interested in seeing them in your application.Writers
❀ We will be looking at your grammar, dialogue, characterization, and overall writing style.
❀ Each sample should have a minimum of 1k words, a maximum of 3k words, with a leeway of 500 words.
❀ The max total of all three samples is 10k words.
❀ Twitter threads will not be accepted as samples - please have them formatted onto a page.Password: camellia
MOD TEAM
❀ Role: Finance, Instagram Social Media, Writer Liason❀ Bio: Hi there, I'm Kim! I love noodles, reading under the covers at night, and playing with my dog, Haru! My favorite character from BSD is Chuuya, I love SKK's teamwork dynamic, and I love all flowers but am the type of girl who would rather receive cash than a bouquet XD❀ Experience: This is my first time modding for a zine, but I have lots of experience with social media, proofreading English papers, and managing group orders, so I am really excited to see this project come to life!
❀ Role: shipping, finance assist❀ Bio: Hi, I'm Ink! Sometimes I call myself a writer, but mostly I'm a typo extraordinaire! I have a deep love for Soukoku — especially Chuuya — and I hope he is happy wherever he is in the story.Anyways, I'm super excited to join this team to help with shipping needs!
❀ Role: Graphic Design, Layout, Art Liason❀ Bio: Hi I'm Gab, your local Kyouka enthusiast :3 SKK being able to work together even tho they're in opposing factions is probably my favorite thing about them, and succulents are the best flowers...mostly because they're the only ones I don't kill instantly.❀ Experience: I have done graphic design and layout for more than ten zines, and I am also studying art right now. My favorite zines right now are Take Flight, Match Point, and Boku no Boys, but my whole zine experience can be found on my carrd.